Dearly valued constituent,
The weather is getting warmer, the days are getting longer and spring has finally said farewell.  As families get ready to celebrate Independence Day, let me update you on current news and an upcoming event.
In June my  Senior Advisory Committee held an 80th district Spring Cleaning event in Park Forest. With help from the Cook County Sheriff Recycling Program, we were able to dispose of countless televisions and other electronics. We also had sensitive document shredding to help protect you from identity theft. All documents were shredded safely and confidentially.
The Village of University Park was recently alerted by Aqua, their water provider, that lead samples tested above the IEPA limit.  After the results were confirmed the residents were issued a do-not-consume advisory for the entire system.  Since then Aqua has been able to lift the advisory considerably. Many residents still remain under the do-not-consume order. This week my office delivered bottled water for residents in need to Faith Movers Church who is set up as a distribution center.
Lastly, to honor our Veteran's who have served in our nation's Armed Forces, I will be having my annual Veteran's Appreciation Picnic on July 12th from 11:00 a.m to 1:00 p.m at Veteran's Memorial Park.  We'll have food, dessert, bingo and plenty of laughs. Please feel free to share the attached flyer.
Thank you again for your help and support!  I wish you and your family a safe and wonderful Independence Day!
If you have any question please feel free to call my district office at 708-754-7900.
Please enjoy the photos below!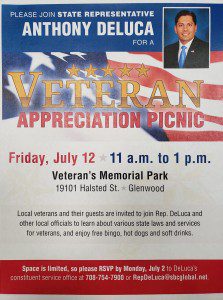 Sincerely,