Dear Valued Constituent,
The 2017 two week fall veto session is underway.  Last week we completed week one and next week we return to Springfield for the second and final week.  Today's newsletter will provide a brief update on some recent action taken in Springfield.
House Bill 4120
Prohibits the import, sales, manufacture, transfer, or possession of "Bump Fire Stocks" – also known as Bump Stocks.  These devices function by using the natural recoil of the weapon to force rapid comprehensions of the trigger.  The result is a semi-automatic weapon firing at the rate of a fully automatic with highly diminished accuracy.  The shooter in Las Vegas resulting in the death of 58 people had multiple weapons modified with bump fire stocks.  HB4120 is currently being held in the rules committee.
House Bill 2959
Amends the Illinois Insurance Code in accordance with the Illinois HIPAA by precluding individual or group accident health insurance coverage from imposing pre-existing condition exclusions, preventing individuals with pre-existing conditions from being denied coverage.  HB2959 is now law.  Public Act 100-0386.
House Bill 786
Prohibits a park district from knowingly allowing an individual who has been convicted of or found to be a child sex offender to volunteer.  When your child participates in a park district program, you deserve the peace of mind knowing all volunteers have been properly screened and your child will be safe.  HB786 is now law.  Public Act 100-0472.
House Bill 4095
Prohibits consumer reporting agencies such as Equifax, TransUnion, and Experian from imposing any fees on consumers for placing, removing, or temporarily lifting a credit freeze to protect their credit.  The recent Equifax breach has jeopardized the personal information of millions, and HB4095 will protect consumers from fees imposed by these agencies forcing us to pay for their mistakes.  HB4095 passed the Illinois House on October 26, 2017.
House Bill 3649
Known as the Debt Transparency Act, provides taxpayers with a clearer picture of how taxpayer dollars are being spent.  HB3649 requires state agencies to disclose the bills they are holding on a monthly basis instead of annually.  Taxpayers will know the true extent of the state's debt along with the estimated amount of penalties paid on late bills.  While agencies are currently required to report this data annually to the state comptroller, it is outdated by the time it is reported, preventing taxpayers and policymakers from having a clear understanding of the state's debts.  The Governor's veto of HB3649 was successfully overridden in the Illinois House on October 25, 2017.
Thank you for your continued support and please see the information below about my upcoming annual wheelchair basketball challenge.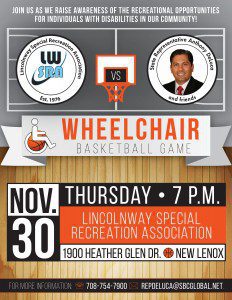 Sincerely,