Dearly valued constituent,
I ask you to join me in showing our appreciation for the law enforcement officers and the firefighters serving our communities.  It's nearly impossible to fully demonstrate our thanks and gratitude for their meaningful work.  Protecting and saving lives is an extraordinary accomplishment.
These men and women often deal with situations that would be unthinkable to most, yet they handle them efficiently and professionally.  Many go way beyond what is expected of them at work to play a significant role in our communities, and we thank you for doing so.
Recently, it was my honor to host both a law enforcement and a firefighter appreciation luncheon in Chicago Heights.  We were able to show our strong support and appreciation on behalf of my constituents for the police & firefighters serving my legislative district.
When you see a firefighter or a police officer, I encourage you to thank them.  When you have an unexpected encounter with law enforcement, it is highly recommended to be respectful and follow instructions.  Doing so makes both the officer and the subject safer and it greatly reduces the possibility of an unnecessary escalation of a situation.  Thank you for your cooperation.
Below are some of the photographs from the luncheons.  Please enjoy.
Law Enforcement Appreciation Lunch photos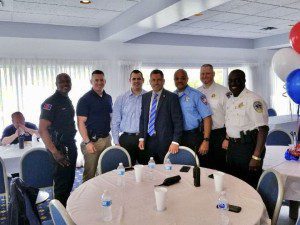 Firefighters Appreciation Luncheon photos
An upcoming event below.  Please pass along to any family or friends that are Veterans. Click on photo.