Dear Friends,
I want to make sure you are aware of three noteworthy events I am hosting in the next two weeks!  In spite of my staff's best efforts, we sometimes hear from constituents after an event that they didn't know about it.  I am sending this e-newsletter to ensure you have the information and are provided ample opportunity to attend the next three events.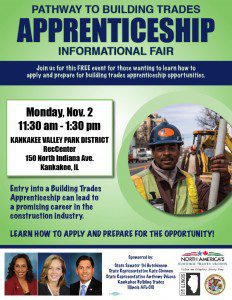 The first event is the Pathway to Building Trades Apprenticeship on Monday, November 2nd.  I am co-hosting with my colleagues, State Senator Toi Hutchinson, State Representative Kate Cloonen, along with Kankakee Building Trades and Illinois AFL-CIO.  I encourage you to share this with anyone who may be interested in this career opportunity!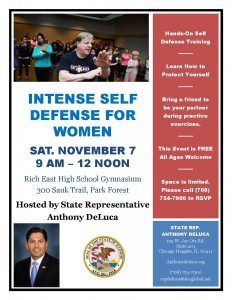 Next is my Intense Self Defense for Women Seminar on Saturday, November 7th.
Back by popular demand, this martial arts focused course is a continuation of the class taught by Master Dan Kocsis in the spring.  If you did not attend in the spring, Master Kocsis assures me he will go back over the basics, review and build from there.
This training will be perfect whether a beginner or advanced student.  We encourage you to bring a female friend to be your partner.  This friend should be someone you are comfortable being in close contact with during the hands on instruction.  If you do not have anyone available, we will do our best to match you up with someone. It is recommended you dress comfortably in loose fitting clothing, and tennis shoes.  Because space is limited, please be sure to RSVP as soon as possible by calling my District Office (708) 754-7900.
And finally, it is time for the Annual Wheel Chair Basketball Game!  It's the Lincolnway Special Recreation Rolling Falcons vs Illinois State Representatives on Thursday, November 12th.  This educational yet fun event brings attention to the importance of special recreation programs while being entertaining.  Everyone who has attended has enjoyed themselves and keep returning year after year.  Come out for this free evening, learn how special recreation programs benefit your community and cheer on the team!
Sincerely,