DeLuca Calls on Springfield to Immediately Freeze Property Taxes
In light of ongoing meetings of the Property Tax Relief Task Force, I have asked the General Assembly to pass a statewide property tax freeze during the upcoming veto session.
We must work together to actively craft a comprehensive package to bring meaningful property tax relief to the people of Illinois.  We have been battling the issue of high property taxes a long time and I have voted to freeze or cut property taxes repeatedly over the past few years.  Relief for Illinois homeowners is long overdue.
In past legislative sessions, I have voted to cut or freeze property taxes in Illinois at least 19 times.  The Property Tax Relief Tax Force, made up of members from both parties and chambers, has been meeting since early August.  The final report of the Task Force must be given to Gov. J.B. Pritzker by the end of the year with any changes that include short-and longterm solutions to provide relief for homeowners.
While the Task Force's meetings have been productive, my concern is we are still a long way from meaningful relief.  In the meantime, I believe it's prudent we freeze property taxes statewide.
DeLuca files HB3899 for Mokena.
For constituents living in the Village of Mokena, the gaming legislation allowing a casino and a racino to be operated in the south suburbs, inadvertently excluded the Village of Mokena as one of the communities to be included with the revenue sharing.
In response to this oversight, I filed House Bill 3899, which adds the Village of Mokena as one of the communities to receive a portion of the 3% distributed to over 40 south suburban towns.
DeLuca Co-Sponsors The Clean Energy Job Act
Growing the clean energy economy that expands equitable access to public health, safety, a cleaner environment, and quality jobs and economic opportunities is a priority.
The Clean Energy Job Act expands goals for Energy Efficiency, on the electric and gas side, to reduce costs.
Directs utilities to evaluate lower-cost alternatives to infrastructure modernization.
Expands Solar and ensures people have access to solar in their community.
Builds more than 40 million solar panels and 2,500 wind turbines across Illinois.
Creates the Clean Jobs Workforce Hubs, a network of frontline organizations that provide direct and sustained support for minority and disadvantaged communities.
Directs the Illinois EPA to begin a comprehensive stakeholder process that prioritizes carbon reductions in impacted communities and reduces harmful pollution from power plants.
Lastly, please click on the upcoming event below.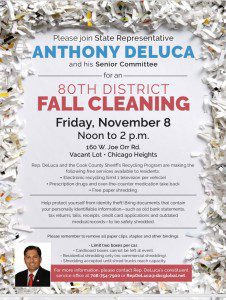 Sincerely,