In January State Representative Anthony DeLuca, Chairman of the House Cities & Villages Committee, received the Outstanding Legislative Leadership Award presented by the Illinois Association of Park Districts.  In appreciation of his outstanding support of legislation promoting park districts, forest preserves and the quality of life that recreation and parks provide to the citizens of the State of Illinois.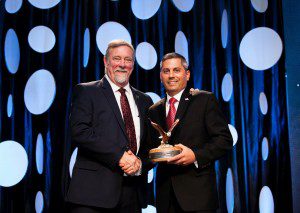 Last week in Springfield the Illinois House passed 6 bills dealing with guns.
*  House Resolution 648- Would create the Firearm Public Awareness Task Force to review the impact of concealed carry, straw purchasers, transportation of firearms, mental health laws and best practices.
*  House Bill 1468- Extends the waiting period for the purchase of what is commonly referred to as an assault weapon to 72 hours.  Currently, the wait is 24 hours and there is no waiting period for non-residents at gun-shows.
*  House Bill 1467- Bans bump stocks and trigger cranks.  This language does not apply to any other types of devices that accelerate the rate of fire.  A bump stock is a device used in the Las Vegas concert shooting and it makes a semi-automatic rifle operate similarly to an automatic weapon.
*  House Bill 1465- Increases the age for purchase and possession of what is commonly referred to as an assault weapon or military style gun from 18 to 21 and for high capacity magazines (A clip holding more than 10 rounds).
*  Senate Bill 1657- Establishes the gun dealer licensing act which requires businesses selling, leasing or otherwise transferring firearms (excluding transfers made by auctioneers, manufacturers, big box stores, and immediate family members) to be licensed by the State of Illinois.  Prohibits gun dealers from operating within 500 feet of a school or daycare (current locations are grandfathered in).  Requires gun dealers to have a video surveillance systems.  Creates a gun dealer licensing board to recommend policies relevant to the act.
*  House Bill 1273- Makes changes to SB1657, the gun dealer licensing act.  Specifies that the term of the license shall be for a 5 year period with a total cost of the application and renewal at $1000.00.  Sets the date by which a licensee must install video surveillance at January 1, 2021.  Provides that a video surveillance systems may not be installed in a bathroom.
Last week the Illinois House voted and passed the gun bills listed above.  I'm disappointed we did not vote on bills to enhance penalties for those who use or possess firearms illegally or are repeat gun offenders.  Although we spent hours debating gun control legislation, we did not discuss or vote on mental health-related issues.  Mental health must be a key component of any strategy aimed towards reducing gun violence.  It was disappointing we did not discuss our larger social and cultural environment as it relates to gun violence.  Passing new gun laws will not prevent an evil and deranged individual from using a gun in an illegal way.  We have laws currently on the books making it illegal to shoot and kill an innocent person, but it continues to happen.
Our society must come together and take a holistic approach to preventing gun violence.  We must have an honest conversation about the existence of gun free zones like we have in our schools.  Let's explore whether former law enforcement or military personnel who now work in a school, with additional training, should be armed.  Are we willing to do whatever it takes to secure our schools and keep our children safe like we did with air travel after September 11th?  It seems most shooters come from broken homes.  Are we exploring programs or considering enacting new laws to encourage the family unit?
Passing new laws that make it more difficult for someone who shouldn't have a gun, to purchase or own a gun, is an important component of the solution.   We also have to ask ourselves, what are the motivations for many of these deeply troubled shooters and how can we make the changes in society to prevent future gun violence?  I stand ready to work with my colleagues in Springfield and with our communities to work towards real solutions.
Please enjoy some photos from my 17th Annual Clergy Breakfast:
Sincerely,