Dear valued constituent,
As Chairman of the House Cities & Villages Committee, and as a member of the Appropriation Public Safety Committee, I continue to focus on working professionally and cooperatively with my colleagues in Springfield, so we can reach an agreement on the state's budget.
As budget negotiations continue in Springfield, those who utilize essential services provided by Illinois government are facing the unknown.  I talk and meet with families in my district everyday, and I see how the current budget impasse negatively impacts them.  Legislators debate issues such as increased taxes, reduced spending, government reforms, and creating new revenue through economic growth, but our state continues to operate without a responsible budget.  This uncertainty hurts families and will suffocate our state's economy if not resolved soon.
In the budget I supported this spring, lawmakers further reduced spending in state agencies.  As a taxpayer, you want to be assured every dollar you pay is spent efficiently and responsibly.  I continue to advocate for that approach as we work through the summer. I have also supported funding for vital state programs including senior home care, developmentally disabled, breast and cervical cancer screenings, meals on wheels, public transportation, child care assistance, MAP Grants and much more.
$630 million reduction to Local Government Distributive Fund
Each year local governments receive funding from the state to help them provide important services to their community. This allows them to hold the line on property taxes, but still allow them to invest in our police and fire departments, make infrastructure improvements and clear our streets after winter storms. As a former mayor, I know how important this additional funding is to our local communities. That is why in the budget I supported local communities received their full share of funding. Check out the list below to see how the governor's proposed budget will impact your local community.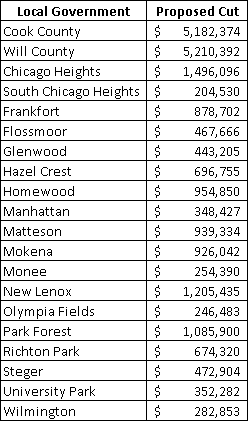 $387 million cut to Higher Education
In the governor's proposed budget funding for state universities would be reduced by over 30%. The only way our colleges and universities would be able to make up for this loss of revenue is increased tuition, making class sizes larger and laying off employees.
In the 80th District, Governor's State University would lose over $7.5 million. The university has made many improvements over the past several years, expanding courses, increasing enrollment and improving their facilities. According to Governors State University President, Dr. Elaine Maimon, the university would have to shut down a majority of their facilities and reduce the amount of instructional services that they provide.
$100 million cut to Child Care services
The Child Care Assistance Program provides low-income families access to affordable and quality child care.  The governor's proposed budget not only reduces funding significantly for CCAP, but will make it far more difficult for families to qualify because the income eligibility will change.  In addition to meeting income qualifications, parents who participate in the program must be working or going to school in order to take part in the program. This is an important resource for families trying to lift themselves out of poverty.
Many families in my district depend on this program.  It is vital to them, and the governor's proposal to change eligibility makes it far more difficult to qualify.  Before this change, a family of three could earn up to $37,166 a year to take part in the program, but under the new rules the same family of three can earn no more than $10,045 annually to qualify. This changes means that 90 percent of the families that currently receive benefits would no longer be eligible to take part.
$23 million reduction to Early Intervention
The earlier a child with disabilities, developmental delays or substantial risk of significant delays receives assistance, the bigger the impact it has on their quality of life. That is why investing in early intervention is important to our children, families and community. The governor has proposed cuts would reduce eligibility and cut services for 4,000 children this fiscal year. In the budget I supported, these cuts were fully restored.
No single solution exists to escape Illinois' budget crisis. Illinois' budget problems have taken decades to create and will not be resolved easily.  Having a politically divided state government, legislators must work together with a balanced approach to make Illinois great again, and you have my commitment to do so.
Sincerely,